BUILDING
Eco-friendly multi-use Bright 'n Beach Brooklyn
includes six studio, one- and two-bedroom apartments.
Sustaining Super Storm Sandy and, concurrently, receiving numerous awards for sustainable development, the six studio, one- and two bedroom condominium apartments that make up Bright 'n Green, at 67 Brighton First Lane in Brighton Beach, are officially available to buyers. The net zero energy building is located on a quiet, pedestrian-only lane that is less than a block from Brighton Beach Avenue — with its retail variety, gourmet groceries and numerous restaurants — a block-and-a-half from subway lines, and two blocks from the boardwalk and beach.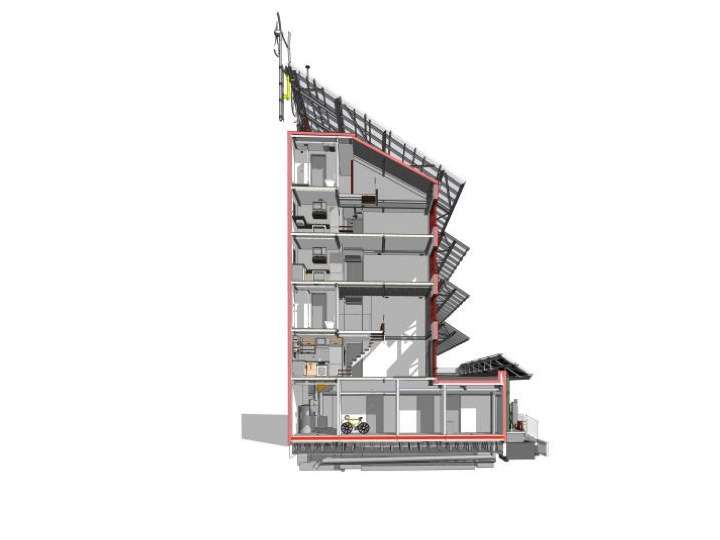 UNITS
CLICK THROUGH
TO SEE FLOOR PLANS,
AMENITIES AND MORE ...
2A • STUDIO LOFT WITH
GARDEN TERRACE
2B • 2BDRM
2 BATH
3B • 1BDRM
3A • STUDIO
4A • STUDIO LOFT
4B • 1BDRM LOFT
COMMUNITY SPACE
One of Bright 'n Green's most significant features is the fresh air purification and distribution system, made up of a 150-foot-long, 10-inch Geotube installed below the building that naturally pre-cools the air in summer and preheats it in winter. The air is then delivered to an Advantix Liquid Desiccant Unit that simultaneously scrubs and dehumidifies it prior to branching out and rising to each apartment, encompassing the outermost corners.
The process of supplying fresh air to each bedroom and living room is coupled with the constant exhaust of stale air from bathrooms and kitchens by means of Energy Recovery Ventilators (ERV). The ERV units operate at more than 90 percent efficiency to reclaim the energy spent on heating or cooling the spaces to return it back to the resident. Moreover, the heating and air-conditioning in individual units, provided by means of a closed-loop geothermal wall system, is designed to meet personal preferences, either on-site or remotely by smart phone application.
BnG Technical Brochure
---
The environmentally friendly building has four duplex lofts and two flats, all with clean lines, contemporary finishes and recycled wood floors. The apartments' abundant windows maximize the light and are composed of triple-glazed Krypton-filled solar thermal treated glass, installed inside double-sealed, air-tight insulated window frames.
Kitchens feature custom-designed, blond-wood cabinetry with state-of-the-art electric appliances, including super-efficient induction cook-tops. The porcelain-clad bathrooms have stainless-steel hardware and dual flush, low-flow toilets. In addition, each unit has a combination washing machine and dryer.
Building amenities include a bicycle room accommodating up to two bicycles per apartment, a furnished, landscaped roof deck with barbecue and hot tub for entertaining, birdhouses for migratory species, and ocean views.
All apartments, public spaces, mechanical rooms and commercial spaces are supplied with energy efficient LED lighting.
---
BRIGHT 'N GREEN RESIDENTS WILL, AMONG OTHER FEATURES…
• Have no energy bills, through net zero energy usage.
• Breathe contaminant-free air.
• Conserve water – capturing, re-using and recycling storm water.
• Avoid dumping 25,000 tons of carbon dioxide in to the atmosphere each year.
In its preliminary design and construction stages, Bright 'n Green earned EPA and OER certifications and has since received the prestigious Green Site Award from the Mayor's Office of Environmental Remediation, National Green Building Standard™ Green Certified at the Emerald level (Certificate #7914), and 4 out of 4 of the Green Building Initiative's Green Globes Certification. It is anticipated the building will additionally earn an EPA Air and Water Sense Certification, ENERGY STAR, LEED Platinum, Fit NYC Center for Active Design Recognition, NYSERDA Low Energy Multi-family Certification, NYC Brownfield Partnership Green, and Living Building Challenge Certification. In addition, Bright 'n Green is a candidate for both European and American Passive House certifications.